Jump to Recipe
An easy and quick recipe for healthy air fryer chicken strips. Tender and juicy chicken with a panko crust. The best healthy and crispy chicken strips you can make at home! Make these in 30 minutes, perfect for those busy weeknights!
I don't know about you guys, but chicken strips are my go to order for Tyler when we eat out. Mainly because I know he will eat them and 99.9% of the time they are on the kids menu. Restaurant chicken strips make me sad though, most of the time they are greasy and the meat is dry. However, my son seems to enjoy them, so I set out to make my own healthy version at home.
Thanks to my handy Philips airfryer I'm able to make delicious, HEALTHY and crispy foods without all the guilt of frying.
I experimented with some panko breading for these chicken strips and they came out so finger-licking good! It's quick and simple, no need to soak it overnight in buttermilk…my hungry toddler won't allow for that, and this mama has got no time. In fact, it took me under 30 minutes to make these air fryer chicken strips. It is made with dark meat (for optimal taste and texture) and served for my little one with sugar free ketchup from True Made Foods. These freeze well in my silicone stasher bags, so I cook them in big batches and save them for later.
Trust me…try this recipe out, you and your kids can thank me later!
List of simple ingredients you will need:
Chicken (I use chicken thighs)
Salt
Pepper
Garlic powder
Flour
Egg
Panko crumbs
Oil spray
Tips for delicious air fryer chicken strips
Preheat the air fryer. Some air fryers state you don't have to, but I find it cooks faster doing this.
Use dark chicken meat for juicy and tender strips.
Place chicken in a single layer in the air fryer, do not stack them.
Spray chicken lightly with an oil spray for a nice even color and crisp
Once the chicken is done, take them out immediately to avoid it steaming in the air fryer basket.
Cook the chicken strips in batches as needed.
I have a Philips Avance XXL analog air fryer, so cooking times are approximate. Check your chicken at the 8 minute mark and adjust the time/temperature accordingly to your air fryer.
Q & A
Can I freeze the chicken strips?
Yes! I like to make extra batches and freeze them in my stasher bags. They do not last long in my house, but they should be good for at least a month. Make sure to squeeze out all the air from the stasher bag before storing.
How do I air fry frozen chicken strips?
Preheat the air fryer at 400 degrees fahrenheit for 5-10 minutes and put the frozen chicken strips in a single layer in the basket. Air fry for 7-8 minutes.
What goes well with air fryer chicken strips?
Serve them with any sauce you like. A favorite in our house is sugar free ketchup or ranch sauce. For toddlers, add a side of carrot and celery sticks for a balanced meal.
Is olive oil spray necessary for air frying?
No. You can still air fry them and get a nice crispy crust, but the panko crumb will have an uneven light and brown crust. Spraying oil on the chicken strips will give it a nice and even golden brown color.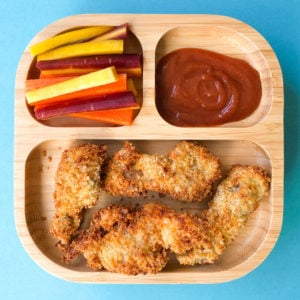 Healthy Air Fryer Chicken Strips
An easy and quick recipe for healthy air fryer chicken strips. Tender and juicy chicken with a crispy panko crust. The best healthy and crispy chicken strips you can make at home!
Ingredients
2

boneless skinless chicken thighs

cut into strips

1

tbs

garlic powder

1

tsp

salt

½

tsp

pepper

add more to taste

½

cup

flour

1

whisked egg

1

cup

panko

oil spray

I use a misto spray
Instructions
Cut the chicken into 1- 1.5 inch thick strips. Cut against the grain for longer strips.

Meanwhile pre heat air fryer at 350 degrees fahrenheit for 5 minutes.

Season chicken evenly on both sides with salt, garlic powder and pepper.

Dredge chicken into the flour. Shake off any excess flour.

Dip chicken into lightly whisked egg. Shake off any excess egg.

Evenly coat both sides of chicken with panko crumbs.

Lightly spray olive oil on both sides of the chicken.

Place the chicken strips into the fryer basket in a single layer.

Air fry chicken for 8 minutes. If panko coating is not evenly brown, add an additional 2 minutes.

Immediately take the chicken out of the fryer basket once done. Place them on a plate or cooling rack in a single layer to avoid steaming them.
Notes
I have a Philips analog air fryer, cooking time and temperature are approximate. Adjust the time and temperature as needed to your air fryer make/model.
Nutrition
Serving:
1
g
Calories:
245
kcal
Carbohydrates:
37.4
g
Protein:
14.3
g
Fat:
4.5
g
Saturated Fat:
1
g
Cholesterol:
106
mg
Sodium:
340
mg
Potassium:
116
mg
Fiber:
1.9
g
Sugar:
1.5
g
Calcium:
27
mg
Iron:
3
mg