Suon Ram Man is an authentic and popular Vietnamese pork spare ribs dish. A sweet, salty and savory dish with an amazing caramel sauce.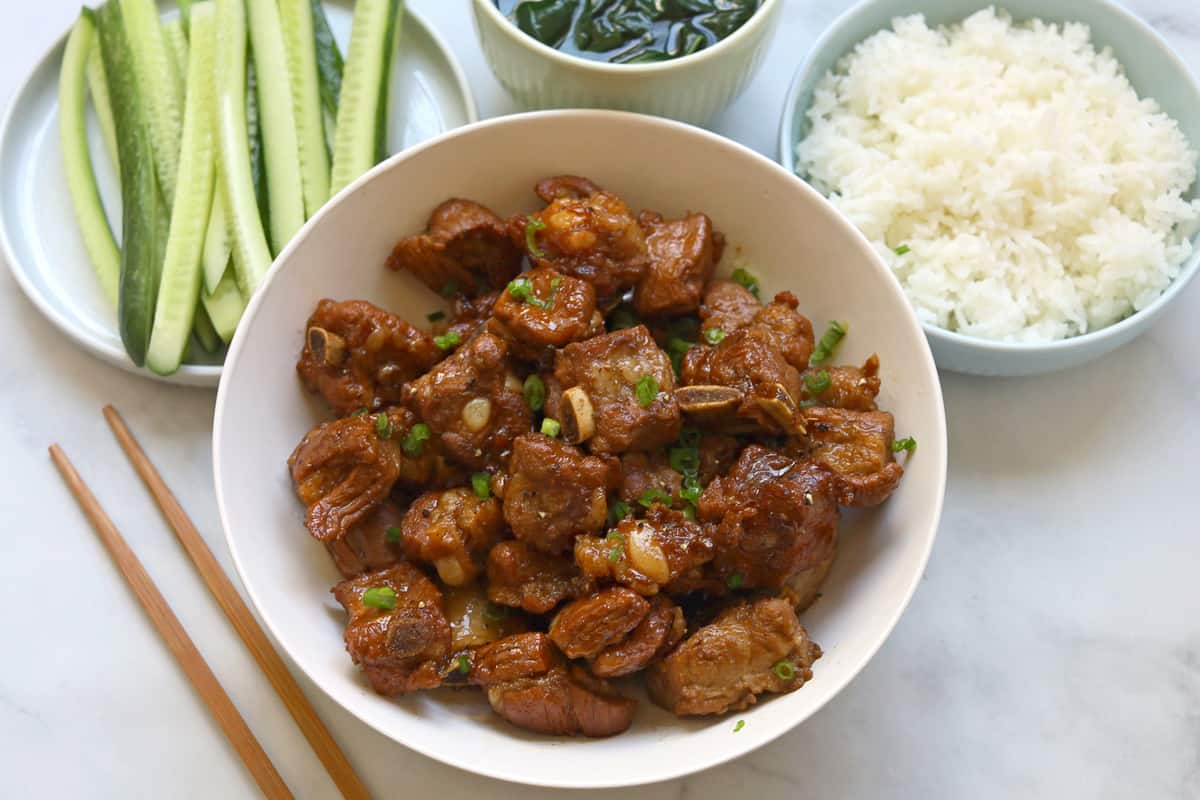 Suon Ram Man is one of my favorite Vietnamese dishes. It's made with pork spare ribs, seared in a golden caramel sauce then braised in fish sauce and coconut water.
The taste of this dish always brings me a joyful comfort – taking me back to when I was a kid. My mom still makes this for me and the family when we visit … and when mom cooks it, it's always a delicious meal!
The recipe I'm sharing is straight from the source (thanks Mom!). I've watched her make it countless times. With many Asian home cooks, there are no precise measurements involved – a soup spoon is mom's measuring tool of choice. It took a lot of trial and error for me to finally get the correct measurements down.
To make a slightly healthier option, I swapped a couple of items: coconut sugar instead of refined sugar and coconut water instead of the usual Coco Rico soda. The end result: Irresistibly sweet and succulent pork spare ribs, just like mom's!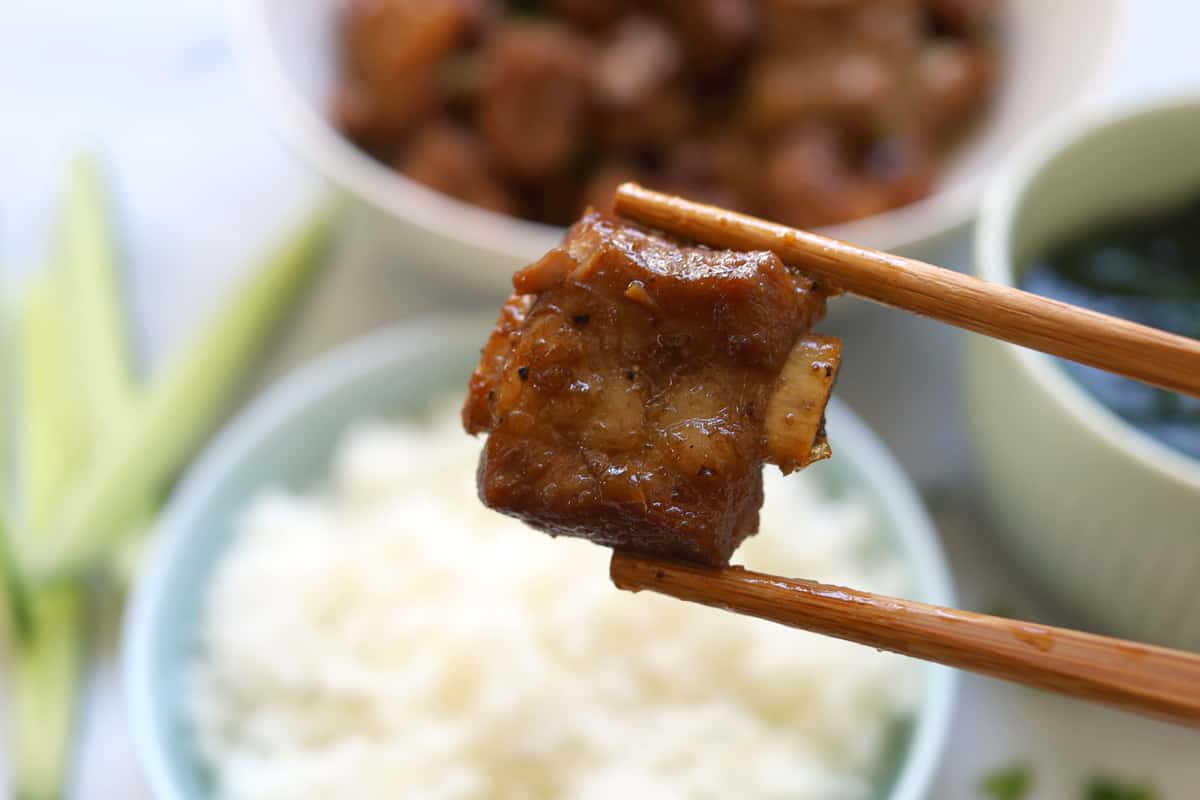 If you're looking to try an authentic home-cooked Vietnamese dish, read on for my recipe notes to make this dish a success!
Ingredients and Tips: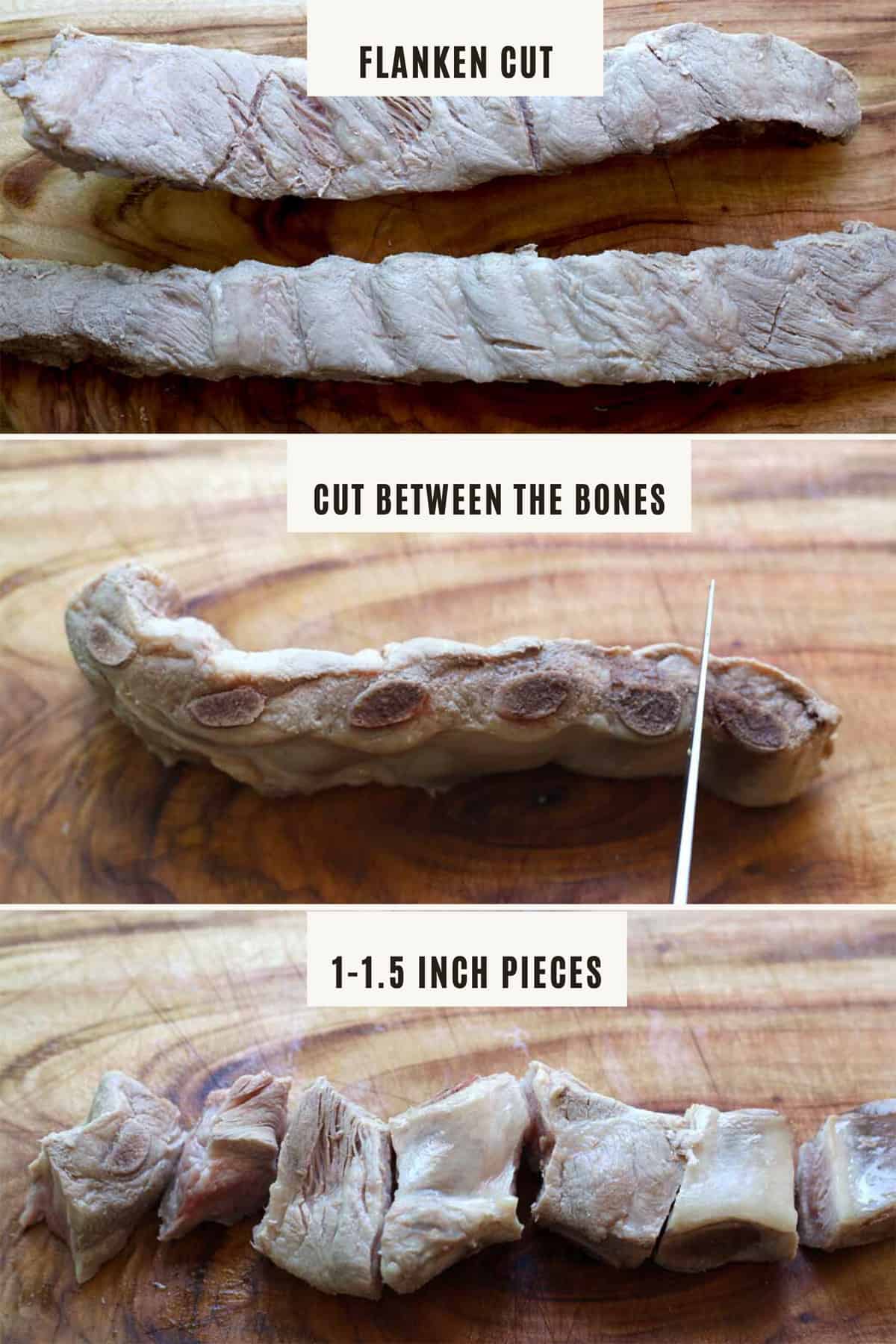 Pork spare ribs – Ask the butcher to make 2 cuts, "flanken" style (across the bone). They should be 1-1.5 inch sizes tall. If you have an HMart nearby, I recommend getting the meat there. They have pre-cut flanken style and packaged spare ribs. I really like the quality of their pork too.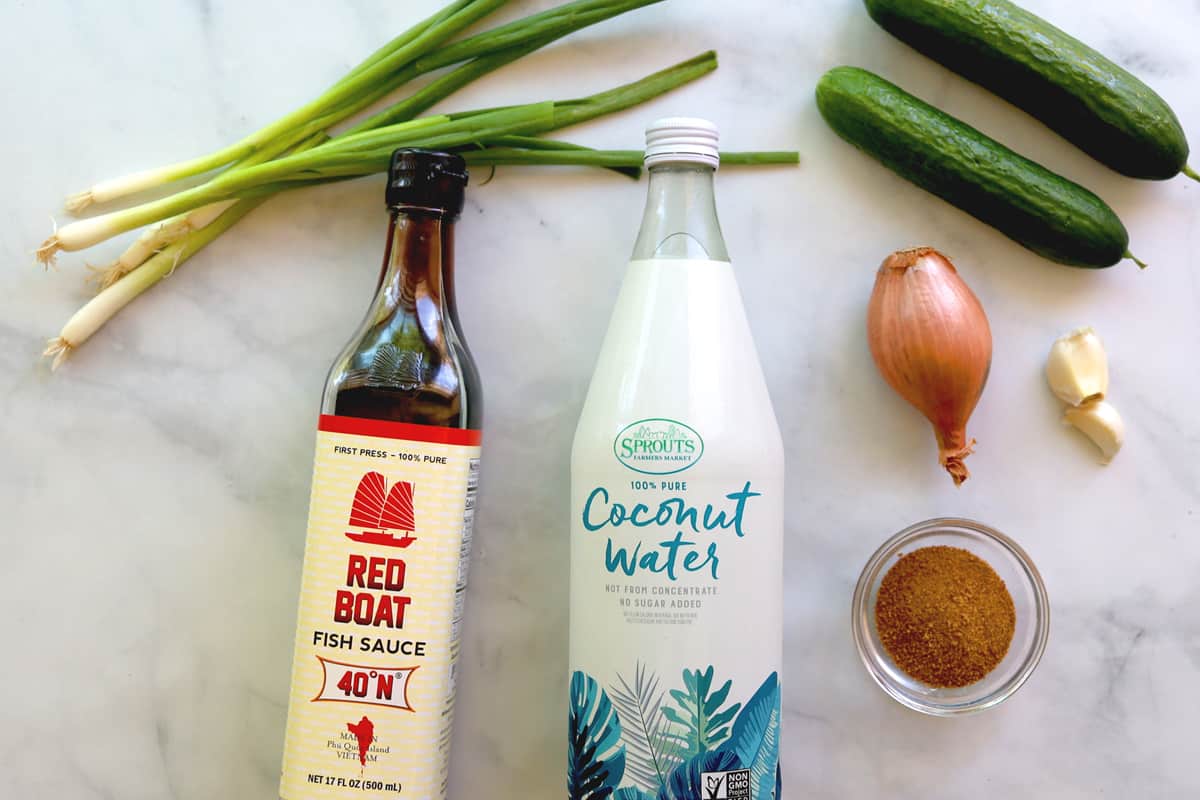 Fish sauce – I use Red Boat brand. It's one of the purest fish sauce brands around, fermented with only salt and anchovies. Another popular fish sauce found in most Vietnamese households is Viet Huong's three crab fish sauce.
Coconut water – You can definitely use Coco Rico, like my mom, but I've chosen to replace that with pure coconut water, which has no added sugar and it tastes great. I also give the leftover to my son – he loves it! Harmless Coconut Water is another good brand and can sometimes be found at Costco.
Coconut sugar – I found using coconut sugar with this dish works just as well! A smidge healthier choice than refined sugar, but you can definitely use what you like!
Other Ingredients: Garlic, shallots, green onions, and pepper.
Cooking Notes:
Parboil the pork – This process helps to remove impurities from the meat. Bring a stock pot filled with water to a boil and add the pork. Parboil for about 5-10 minutes, you'll see all the gunk from the meat rise and float in the water. Then drain and rinse the meat with cold water.
Marinade – Marinate the spare ribs for at least 30 minutes or more, it will help yield a deeper flavor.
Caramelizing – Add the coconut sugar and oil to a large saute pan. This step can be tricky. Make sure to watch it carefully. Stir continuously and take it off the heat once it turns a rich caramel color. If the sauce looks black, then it's burnt and you'll want to start over because the dish will taste bitter with burnt caramel.
Below is how your caramelized sugar should look like.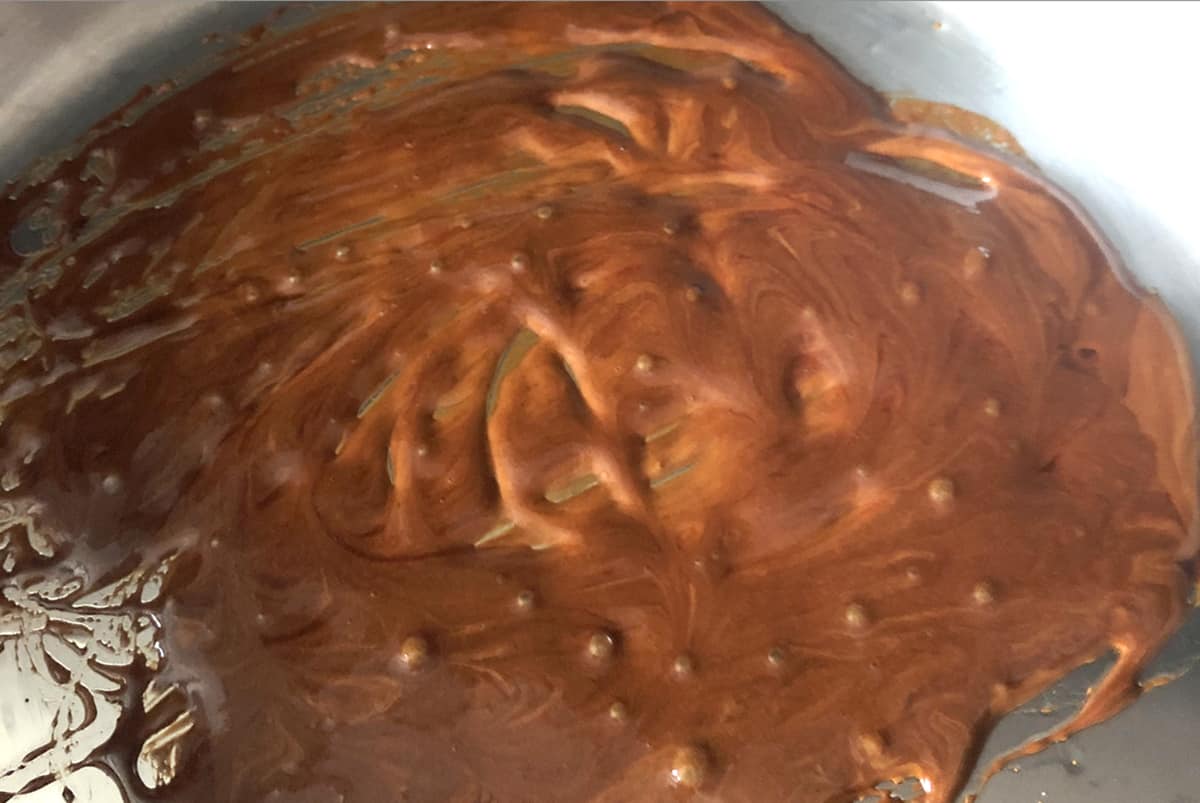 Sauteing – Add the pork to the caramelized sugar. During this step, the caramel sauce may harden and caramel bits may form and stick on your sauteeing utensil. If it happens, just scrape it off and add it back to the pan. The coconut water and braising will help the hard parts melt.
Braising – If you like the suon ram sauce to be concentrated, then keep the pan uncovered and simmer it longer until the liquid thickness is to your liking. You can always add some water back to the pan if it gets too thick.
Taste and Adjust – An important step – taste it when it's done. If you like it sweeter, add more sugar. If you want it saltier, add fish sauce. A bit spicier, add pepper! Adjust it to your liking!
Garnish – Green onion and additional pepper. This is optional but definitely adds to the flavor.
How to serve and sides – Suon Ram Man is usually served family-style. It's eaten with rice, a side of refreshing cucumber and/or some simple vegetable broth to balance out the richness of the dish. It'll be the perfect balance of sweet and salty. If you love the sauce, drizzle it on the rice for added flavor, it's so delicious!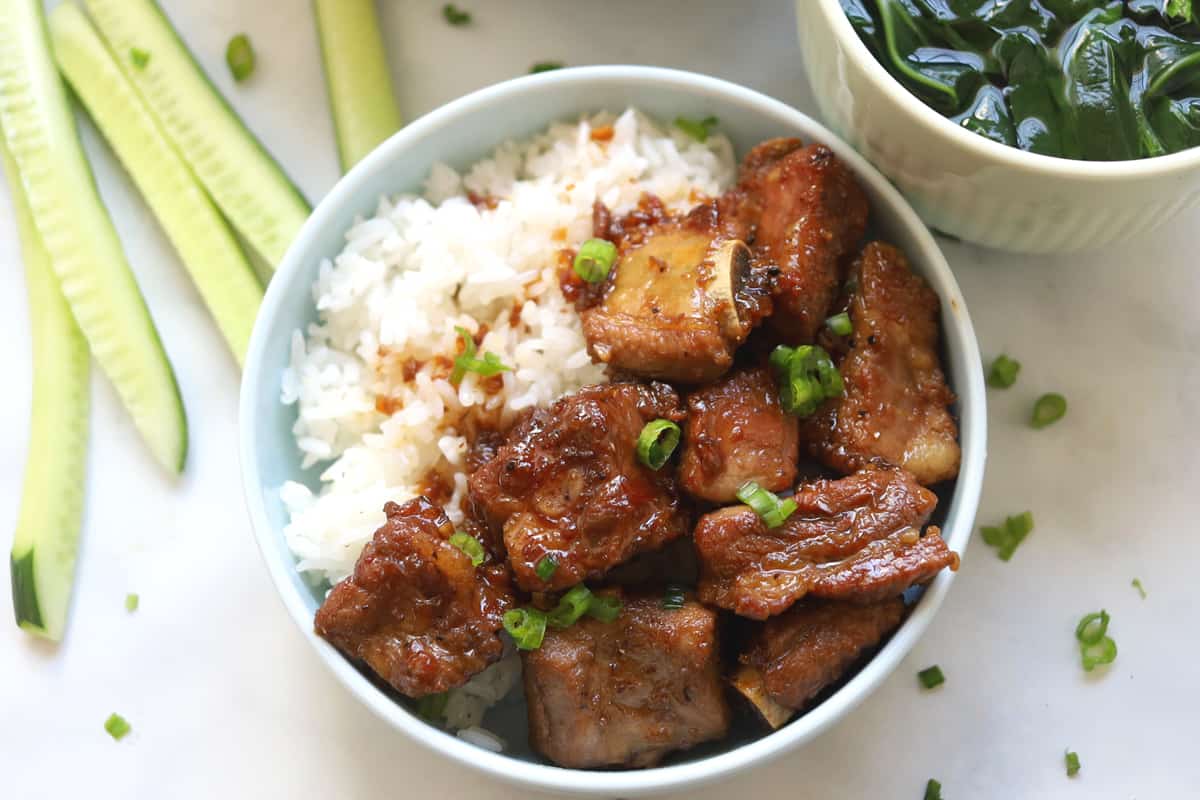 If you like this Suon Ram Man, please check out my other Vietnamese food recipes like Vietnamese Garlic Noodles and Vietnamese yogurt.
Did you make this dish? Follow and tag me on Instagram to show some love!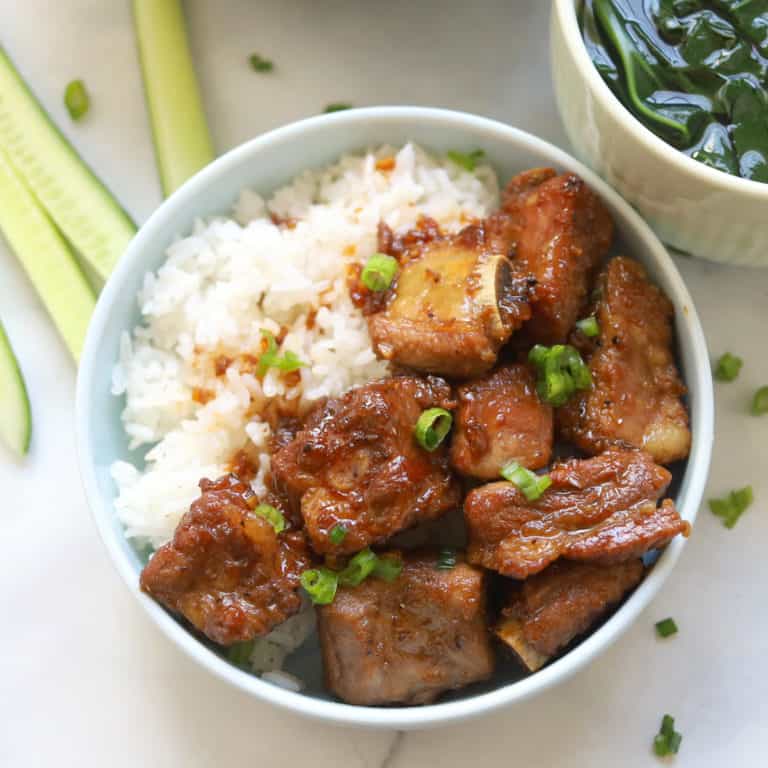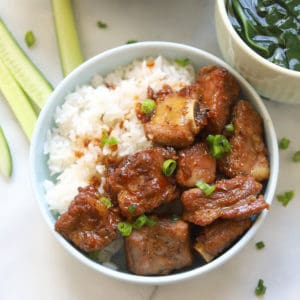 Suon Ram Man- Vietnamese Caramelized Pork Spare Ribs
Suon Ram Man is an authentic and popular Vietnamese pork spare ribs dish. A sweet, salty and savory dish with an amazing caramel sauce. 
Ingredients
1.5

pounds

pork spare ribs cut into 1 to 1.5"

2.5

tablespoons

fish sauce

I use Redboat

½

medium shallot, diced

2

cloves

medium garlic, minced

½

teaspoon

pepper

2

tablespoons

sugar

I use coconut sugar

1

cup

coconut water

or Coco Rico

1

teaspoon

oil

1

stalk

sliced green onion

optional

1

sliced cucumber
Instructions
Parboil the pork in hot water for 5-10 minutes. Drain and wash clean with cold water.

Add fish sauce, shallot, garlic and pepper to the meat and marinate for 30 minutes or overnight.

In a saute pan, add oil and 2 TBS of coconut sugar. Melt the sugar on medium low heat, stirring continuously. Caramelize the sugar until the color is a dark rich brown. Turn off and take off heat.

Add the meat to the pan, take heat up to high and coat the meat with caramelized sugar evenly.

Once caramelized color on the meat is evenly distributed, add the coconut water and bring it to a boil, then take it down to low heat to simmer. cover with a lid.

Simmer for 35 minutes. Take lid off and bring up medium heat for 5 minutes, for the coconut water to reduce and thicken.

Garnish with green onions and additional pepper as needed. Serve with cucumber over a bed of rice.
Nutrition
Serving:
4
g
Calories:
534
kcal
Carbohydrates:
12
g
Protein:
28
g
Fat:
41
g
Saturated Fat:
13
g
Trans Fat:
1
g
Cholesterol:
136
mg
Sodium:
1087
mg
Potassium:
724
mg
Fiber:
1
g
Sugar:
9
g
Vitamin A:
87
IU
Vitamin C:
5
mg
Calcium:
62
mg
Iron:
2
mg