Learn how to make authentic Vietnamese beef pho bo noodle soup in the comfort of your own home. This delicious and fragrant broth is made with beef bones, spices and herbs, and simmered for hours to extract as much flavor as possible. The broth is served with rice noodles and sliced beef, and garnished with a variety of herbs with a fresh squeeze of lime. Homemade pho doesn't have to be complicated, you can enjoy restaurant style pho at home with a little planning and patience.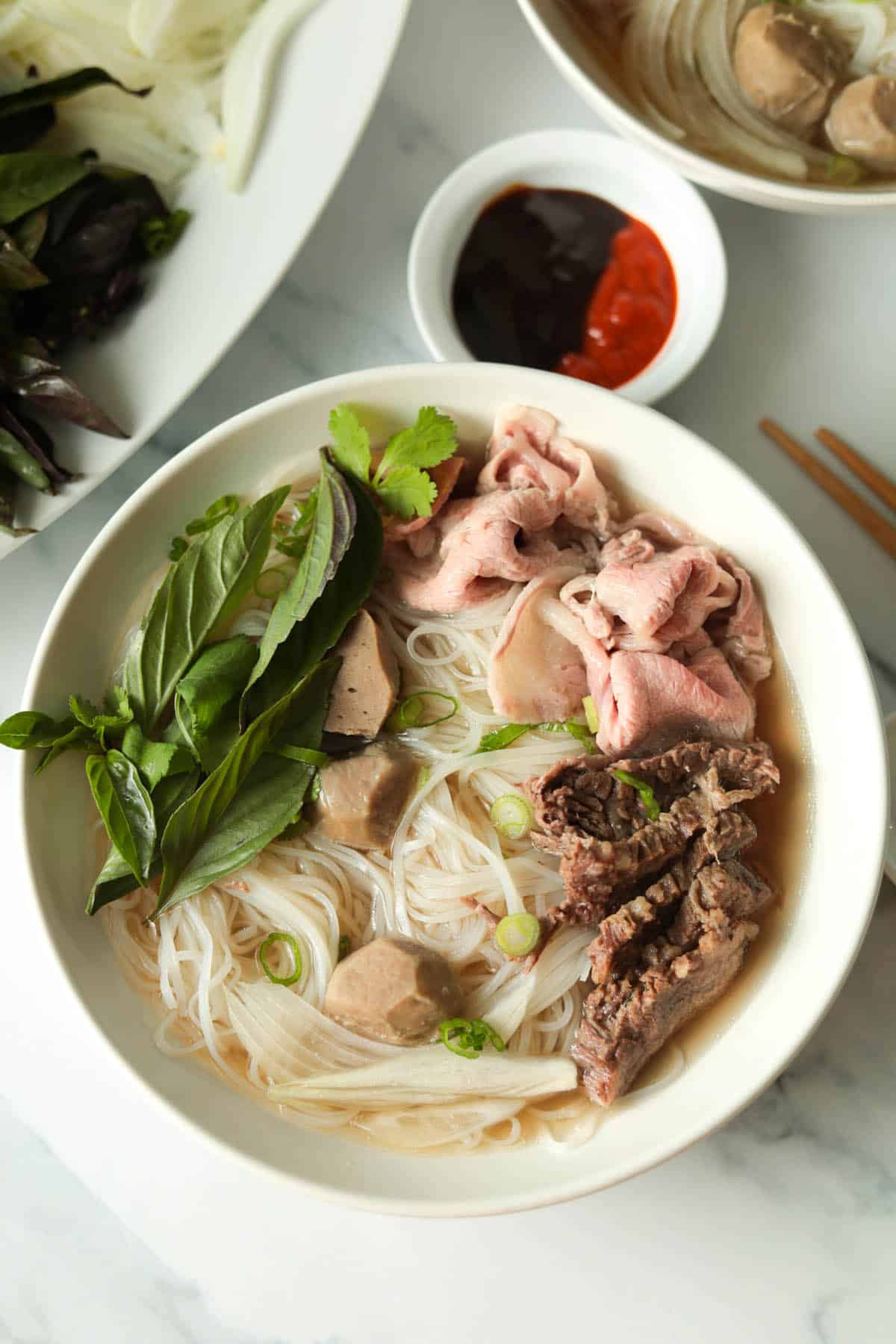 "Pho bo" means beef noodle soup, it's a quintessential Vietnamese dish that is served at most Vietnamese restaurants in the U.S. I grew up eating both home-cooked pho and many, many bowls of restaurant pho! But when I have the time, I prefer to make it at home because I can hand-pick quality ingredients and control what goes into it, for a much healthier meal. This pho bo recipe is an all-time favorite with the kids, especially in fall/winter or when they're feeling under the weather.
If you are a newbie to making pho, this is the ultimate guide to making homemade pho at home!
Jump to:
Ingredients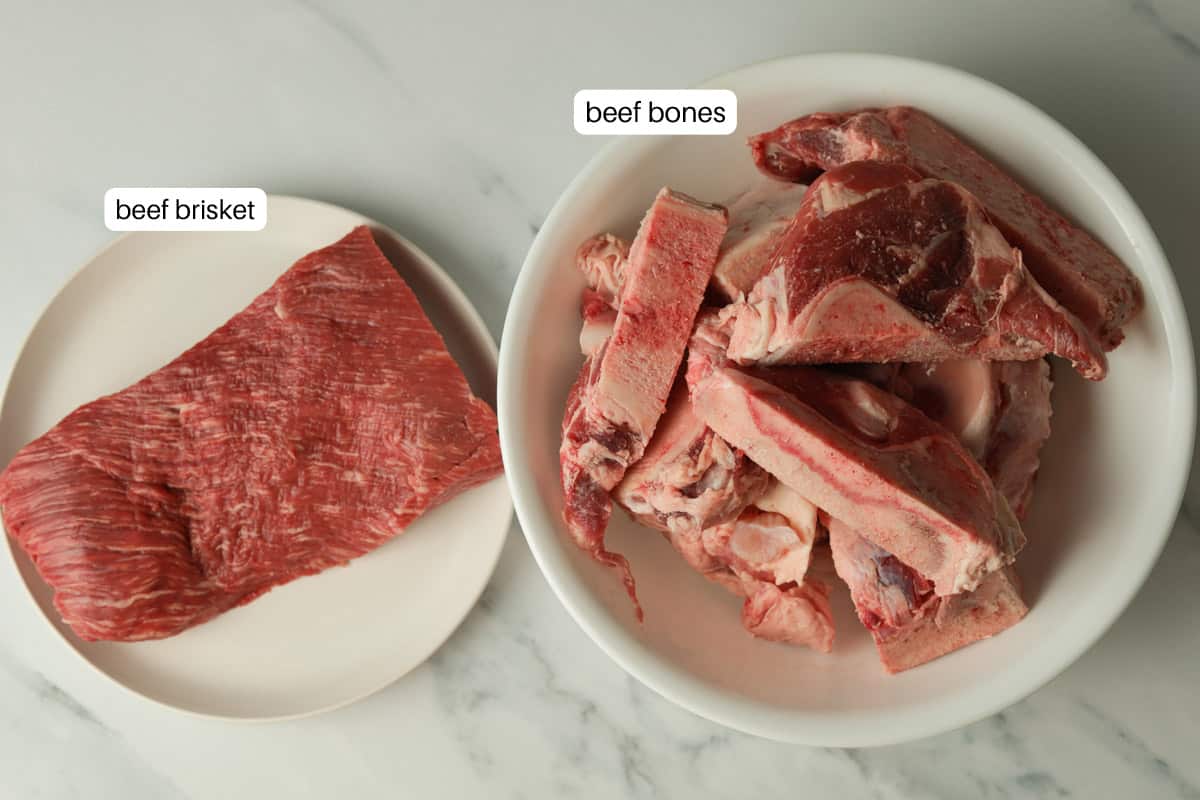 Beef bones: Beef bones are the base of the broth. Use a mixture of beef knuckle and marrow bones (which have a lot of collagen) which provides a beefy richness and depth of flavor to the broth.
Beef brisket: A popular cut of beef for pho. It has just the right amount of fat that makes it flavorful and tender when cooked low and slow in the broth.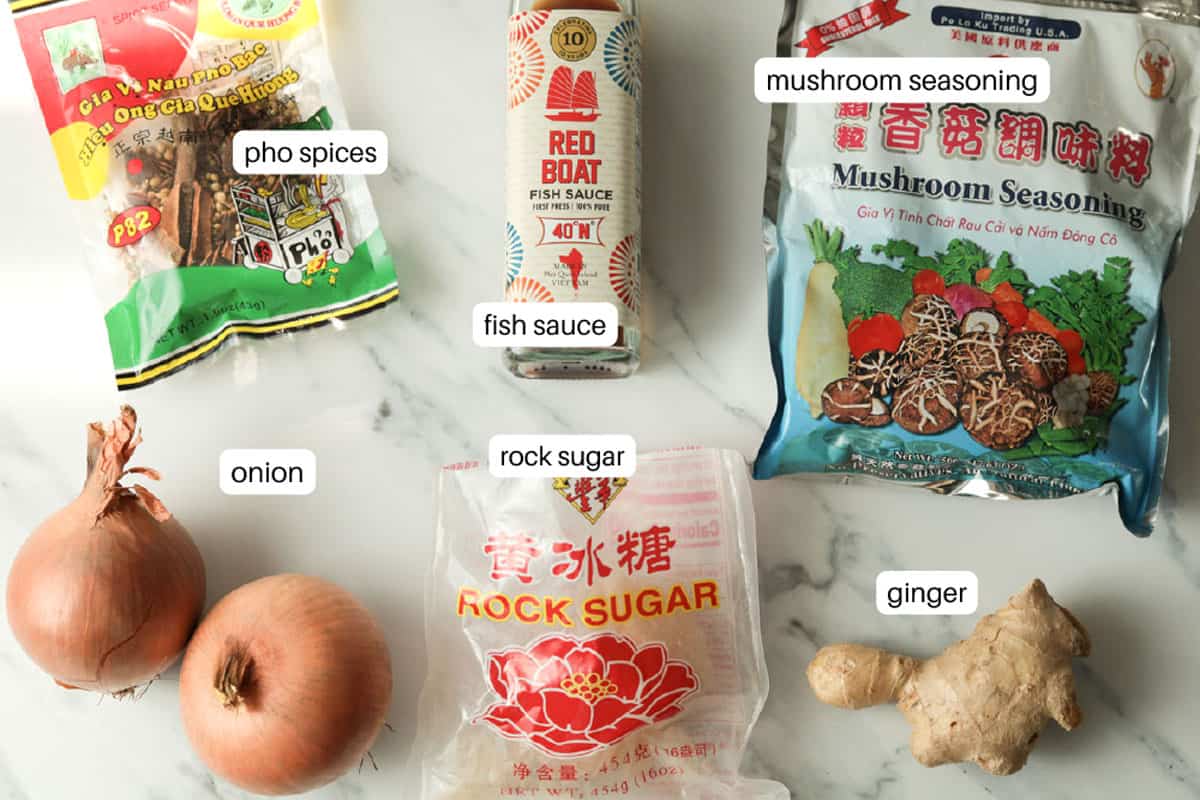 Onions: Adds a sweet note to the broth.
Ginger: Adds a warm, spicy flavor to the broth and helps to balance the richness of the beef.
Pho spices seasoning: The spices include star anise, cinnamon, and cloves, which are essential to the pho flavor. I like to use the premade pho spice packages with the dried whole spice vs packets with ground spices. Dried whole spices keep their flavor longer and don't lose their aromatics as quickly. I like to use this Gia Vi Nau Pho Bac brand, If you cant get the pre-made pho spices, see below (recipe card) on how to make your own pho spice.
Rock sugar: A common sweetener used in Vietnamese cuisine. It adds a subtle sweetness to the broth.
Fish sauce: Adds additional salty and umami flavors to the broth. I use this sparingly and only season at the end. I like Red Boat or Three Crabs brand. Get this as your local Asian market.
Mushroom Seasoning: This adds a savory and earthy flavor and really elevates the flavor of the broth. My favorite brand is the Imperial Taste one. If you don't use mushroom seasoning, you'll need another flavor enhancing ingredient like MSG or bouillon powder, salt alone will not give you that extra pho flavor boost.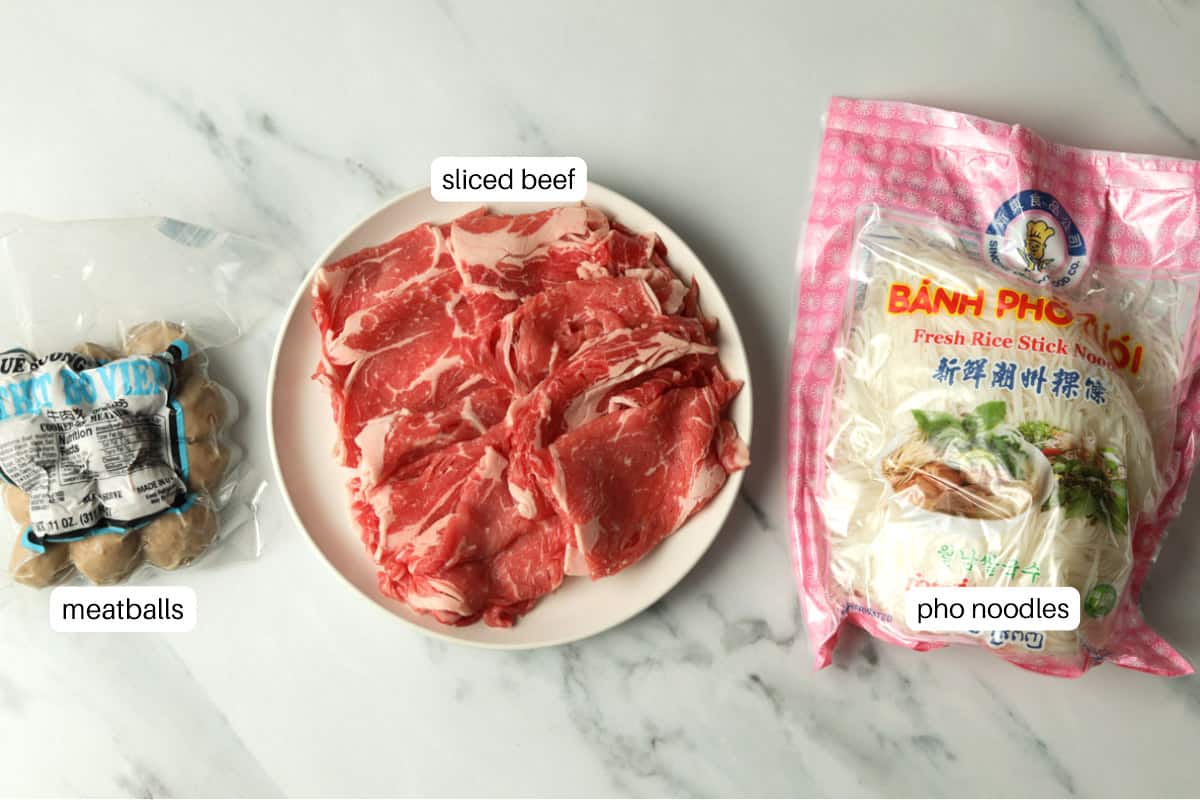 Sliced beef – I like to use the thin, pre-sliced prime rib cut usually sold at the butcher area of the Asian market. It's conveniently sliced for soups and is perfect for pho. You can also get eye round steak or flank cut for a leaner option.
Oxtail is a fatty and tender meat option, but pricey. If unable to get pre-sliced meat, you can freeze the meat and slice it thinly yourself.
Bo vien – This is pre-cooked Vietnamese beef meatballs that you can get at most Asian markets in the refrigerator aisle.
Tendon and tripe – This is optional, but provides a nice variation of texture elements from soft to crunchy.
Pho noodles – If you can, get the fresh ones in the refrigerator aisle, not the dry ones. Fresh noodles cook quicker and have better texture and taste.
Accompaniments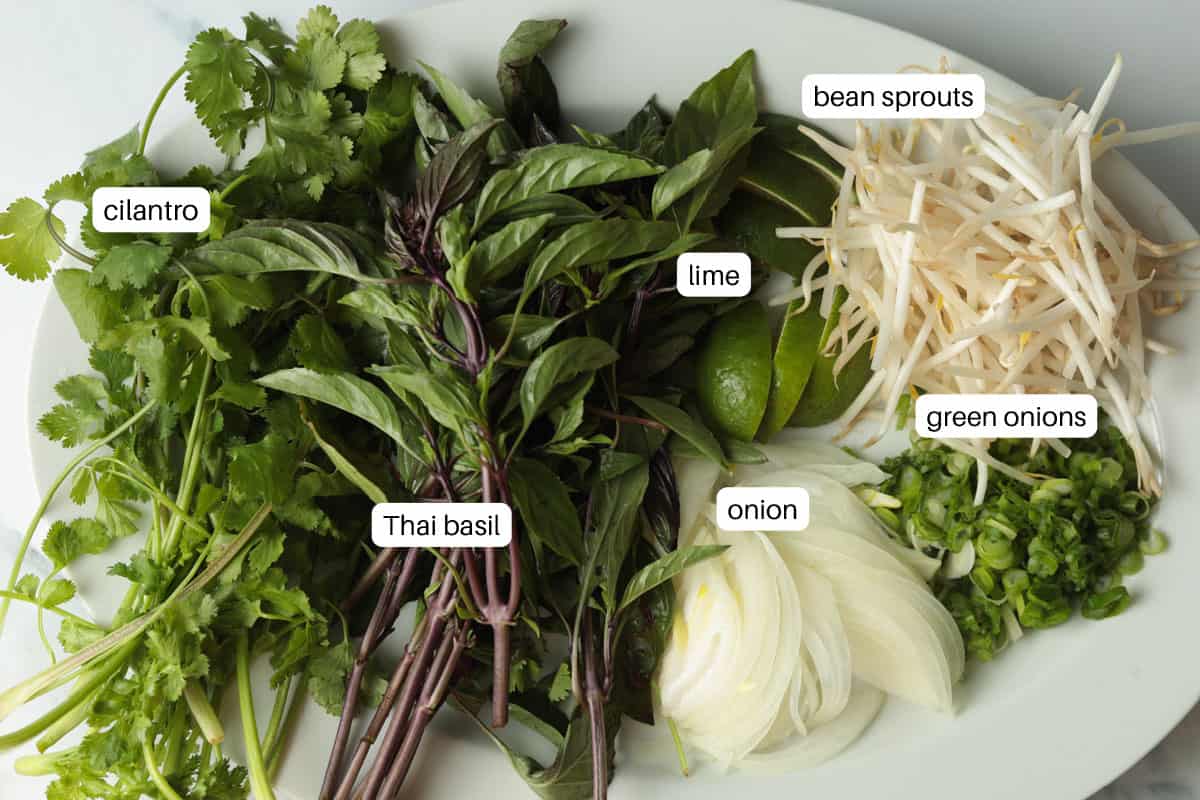 Herbs and vegetables – Bean sprouts, Thai basil, cilantro, green onions, onions, sliced Jalapeños and lime wedges.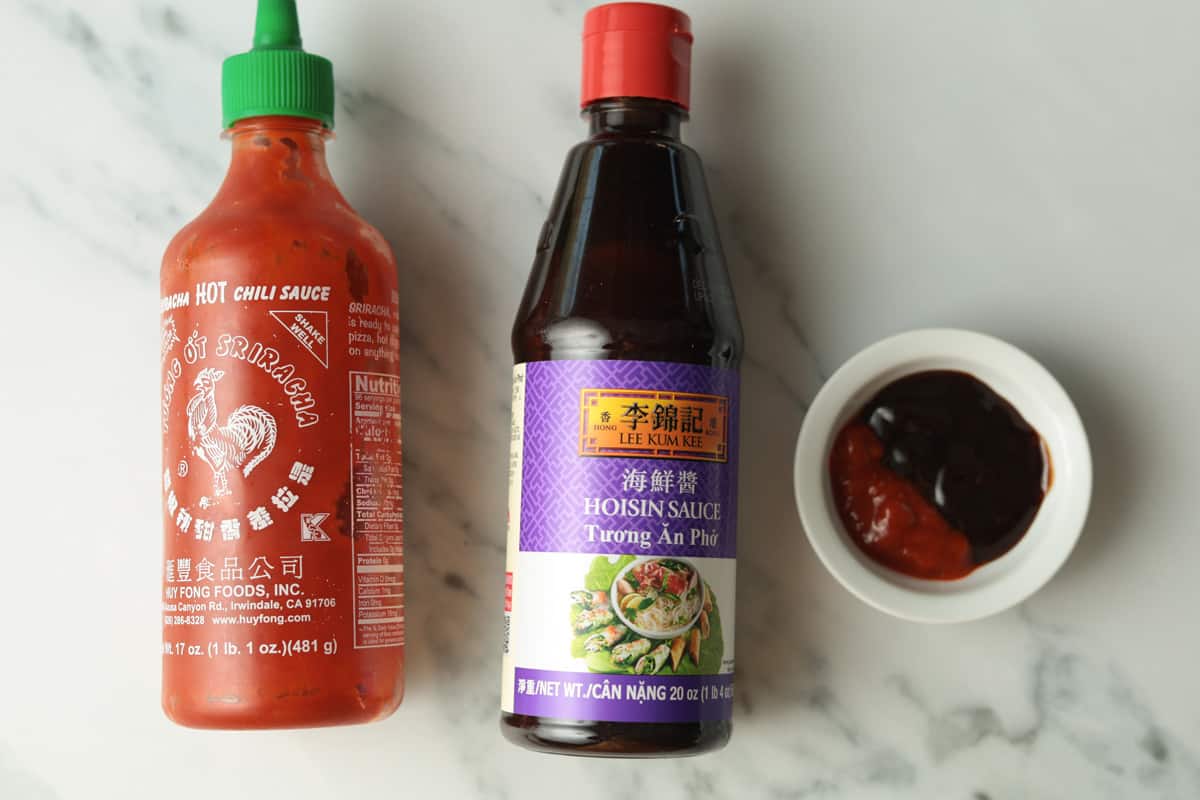 Condiments – Sriracha and hoisin sauce are traditional sauces served with pho, you can dip your noodles and meat into them for a more flavorful bite. Get them at your local Asian market or at some mainstream grocery stores.
Equipment
16 qt stock pot – This is a big stock pot. When I have the time to make beef pho, I make it worth my time by making a great big pot that feeds about 8 to 10 people. Feel free to cut the recipe in half for a smaller batch.
How to make pho
1). Parboil the bones and meat, then rinse the bones with water.
2). Char the onion and ginger over the stove top.
3). Add the beef bones, brisket, onion, ginger and salt into the pot and bring to a boil, then simmer for at least 4 hours. Keep it on simmer with lid off, occasionally skim the fat and scum off the top of the broth. Take the brisket out after 2.5 hours of cooking or until it cuts through easily. Set aside, covered in the fridge until ready to serve.
4). Roast the pho spice seasoning in a pan on the stove top. Add the seasoning to a stock bag, then add to the pot at the last hour of cooking.
5). While the pho broth is simmering, cook the rice noodles as directed, then strain, rinse with cold water and set it aside.
6). Strain the broth and into another large pot. Season the broth with rock sugar, mushroom powder, and fish sauce. As always, taste and add more seasoning as needed to liking.
How to assemble a bowl of beef pho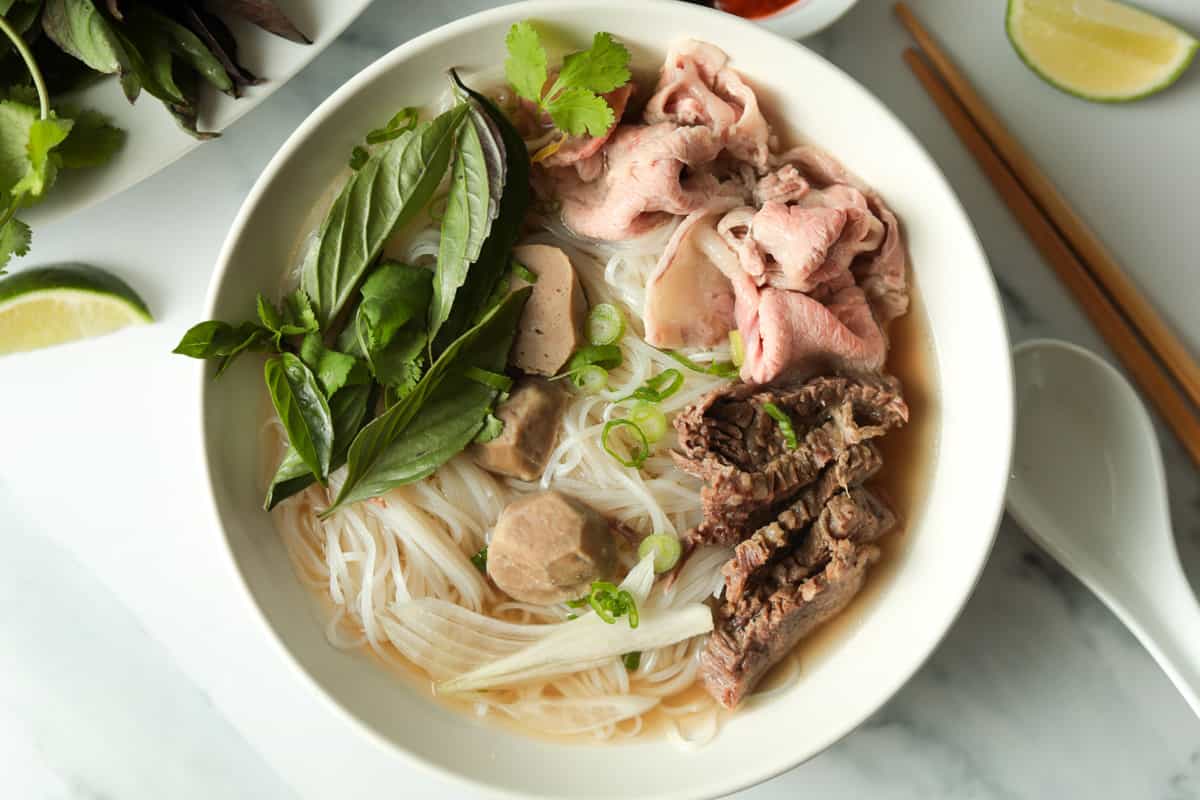 1). Add the cooked pho noodles to the serving bowl, (Make sure the noodles are hot so they don't cool down the broth – microwave the cooked noodles for about 30 seconds).
2). Add your meats on top of the noodles (if using store bought bo vien, make sure to add this to the cooked soup and boil for 2 to 3 minutes).
3). Ladle the hot broth in and top it with fresh herbs. Finish with a squeeze of fresh lime juice over the toppings.
Serve it with a side of fresh spring rolls just like in the restaurants!
How to eat pho bo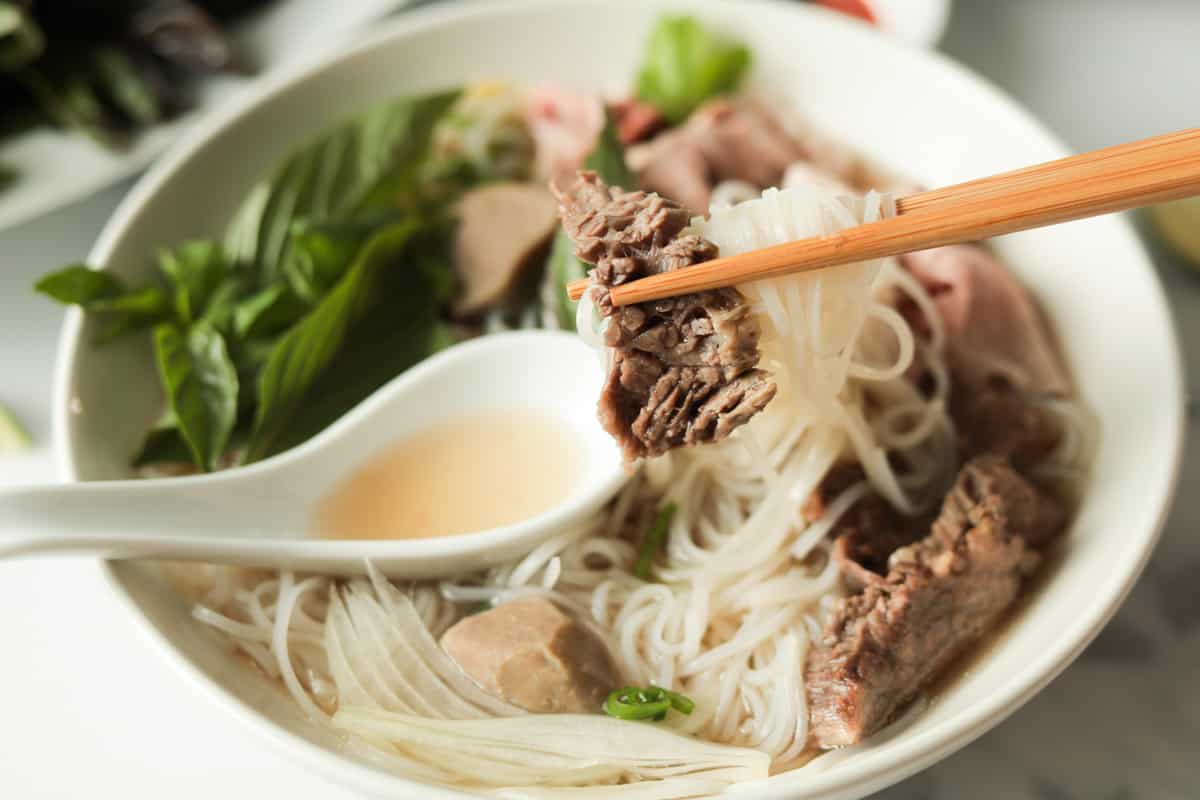 Add some broth and rice noodles to your soup spoon along with some herbs and bean sprouts. Then grab a piece of meat with your chopsticks, dip it into a bit of sriracha and hoisin. Eat the meat with the spoonful of noodles and soup for the ultimate bite!
Pro tips
Parboil the bones: Before you start making the broth, it's a good idea to blanch the beef bones in boiling water for a few minutes. This will help to remove any impurities and ensure a clear and clean-tasting broth.
Simmer the broth for at least four hours on low heat to extract maximum flavor and richness from the bones and spices. Add more water as needed while the broth is simmering, enough to cover the bones and other ingredients if the broth evaporates too much.
Skim the broth: During the cooking process, impurities and fat will rise to the surface of the broth. Use a skimmer or a soup ladle to skim off the impurities and fat.
Cook the broth the day before eating – the broth will be richer in flavor and you'll be able to take the fat off easier once it solidifies in the fridge overnight.
I prefer to char the onions and ginger over an open flame as it's faster, but note, it will make a mess of your stovetop! Alternately you can char the onion and ginger in an oven broiler for 20 minutes, turning until blackened on all sides.
Season the broth when it's done cooking, you'll want the broth to have a rich bold flavor. If it tastes flat or needs a bit more saltiness, add a bit more fish sauce or mushroom powder. You'll need a bold flavor to serve as the base for the noodles and herbs.
If you love this pho, but short on time, try my Instant Pot oxtail recipe for a shortcut version!
Frequently asked questions
Is pho usually made with beef or chicken broth?

When people refer to pho, it is commonly pho bo (beef pho) made with beef broth.  The only time you don't get the beef broth is when you order other types of pho, like chicken pho, vegetarian pho, or seafood pho.
Are there different types of pho?

There are many different varieties of pho. The most popular is pho bo (beef pho) then pho ga (chicken pho), there is also vegetarian  and seafood pho that are usually available at restaurants, but not necessarily common to make in Vietnamese households.
 
Why is pho broth so clear?

Parboiling the bones and skimming of the fat and impurities while the broth simmers, then straining the broth when it's done cooking, will ensure a clear broth.
What gives pho broth its flavor?

Pho gets its rich beef flavor from beef bones simmered for hours in the pot, then with the added spices of star anise, cinnamon, coriander, cloves and cardamom, which gives the broth that distinct pho flavor.
More Vietnamese recipes
Love a recipe you've tried? Please leave a 5-star 🌟rating in the recipe card and a comment below! That'll make my day!

Let's be friends! Follow me on social media @ Instagram, Pinterest. Give me a tag @apeachyplate when you try out a recipe!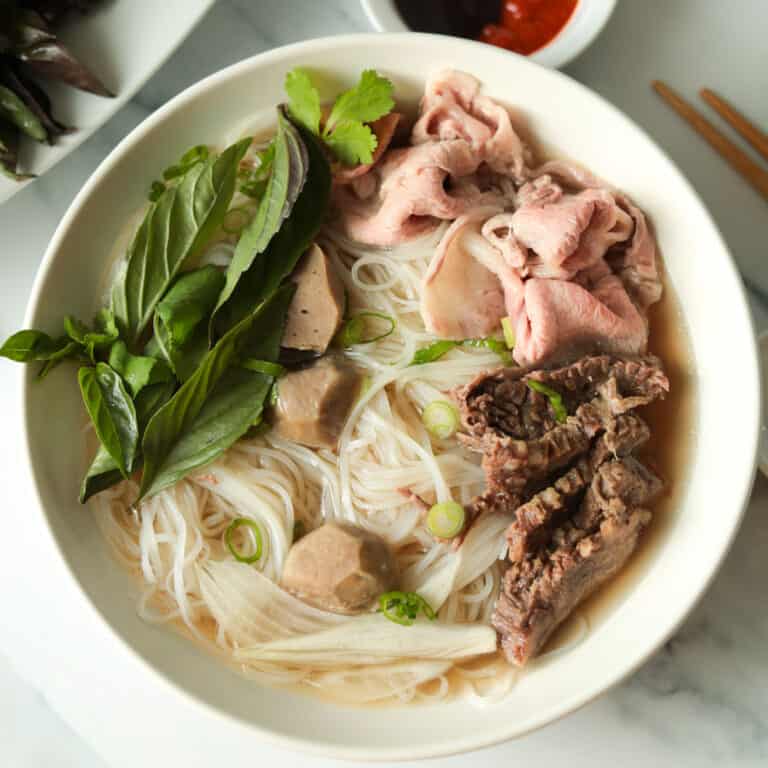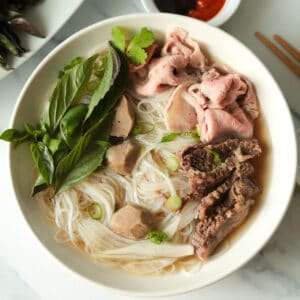 Vietnamese Pho bo (beef pho)
Make this authentic Vietnamese beef pho (pho bo) at home. This is a rich, slow-simmered beef broth infused with aromatic Vietnamese spices. The meat is cooked to tender perfection and served with the hot broth over a bed of fresh rice noodles then garnished with fresh and fragrant herbs.
Ingredients
10

lbs

beef bones

2

lbs

beef brisket

2

large

yellow onion

6

oz

ginger knob

1

packet

pho seasoning

see note below for pho seasoning ingredients

2

tablespoons

mushroom seasoning

or beef bouillon, or MSG (if using bouillon or MSG, season to taste, this does not equate to same measurement as mushroom seasoning)

1

oz

rock sugar

1

tablespoons

fish sauce

more to taste

1 ½

tablespoons

kosher salt

14

quarts

water
Accompaniments
2

package

rice noodles
sriracha

hot sauce

Thai basil

fresh cilantro leaves

green onions, thinly sliced

bean sprouts

jalapeno slices

fresh lime slices
Instructions
Add water (enough to cover the bones and meat) to a large stockpot, take it to a boil on high heat. Add the beef bones, brisket and 1 tablespoon of salt. Boil for 5 to 8 minutes. Drain and rinse any scum on the bones and meat under cold water. Set aside.

Place the onions and ginger directly over a stovetop burner flame on medium high heat. Use tongs to flip constantly until charred, about 10 minutes.

Rinse and gently rub the loose charred skin on the onion and ginger under cold water and set aside.

Place the beef bones, onions, ginger, salt and add the brisket or meat of choice towards the top to the large stockpot. Fill the pot with about 14 quarts of water (or enough water to cover all ingredients).

Cover pot with a lid and take it to a boil on high heat. Once the water begins to boil, remove the lid. Lower the heat to a medium low, enough to keep the stock at a rolling simmer.

Simmer the stock for 4 hours. Occasionally skim the fat and scum off the top of the broth with a ladle. Remove the brisket after 2 ½ hours of cooking, or until it cuts through easily. Allow to cool, then refrigerate it covered until ready to serve.

In a medium saute pan, roast the pho spices over medium heat, until fragrant and toasted, about 5-7 minutes. Careful not to let it burn.

Add the toasted spices in a spice bag with drawstring. Add the closed spice bag to the pho broth submerged at the last hour of cooking.

While the pho broth is simmering, cook the rice noodles as directed, then strain and rinse with cold water, set aside.

Clean and prep your herbs and condiments.

When broth is done cooking, strain the broth with a colander into another large pot.  Skim off any fat and scum. Season the broth with rock sugar,  mushroom powder (1 tablespoon at a time to taste), and fish sauce. As always, taste and add more seasoning as needed to your taste.
Notes
*Nutritional information is for pho broth only.  Accuracy for nutritional information on recipes on this site is only an estimate and is not guaranteed. 
If you cannot find pho seasoning packets, you can make your own with 2 small cinnamon sticks, 3 whole cloves, 5 whole star anise, 2 tablespoons coriander seeds, 2 tablespoons fennel seeds, 3 whole black cardamom.  Use a filter bag/cheesecloth to add the spices into after toasting.
Recipe makes 8-10 servings, cut the recipe in half as needed, but keep the pho spice seasoning the same. 
I like to char the onions and ginger over the open fire on the stove top as its quicker, but makes a bit of mess.. Alternately you can char the onion and ginger in an oven broiler for 20 minutes, turning until blackened on all sides.  
Nutrition
Serving:
8
people
Calories:
546
kcal
Carbohydrates:
58
g
Protein:
38
g
Fat:
17
g
Saturated Fat:
7
g
Polyunsaturated Fat:
1
g
Monounsaturated Fat:
8
g
Cholesterol:
105
mg
Sodium:
1794
mg
Potassium:
693
mg
Fiber:
2
g
Sugar:
6
g
Vitamin A:
10
IU
Vitamin C:
4
mg
Calcium:
83
mg
Iron:
4
mg