Welcome to A Peachy Plate!
Hi, I'm Kaylie! I'm so glad you're here! Welcome to A Peachy Plate, where I share my passion for food and cooking. As a busy mom and registered nurse, it's important for me to serve home cooked meals for the family that's delicious and easy to make.  
I'm Vietnamese-American and grew up in Southern California. I grew up eating a lot of diverse International and American food outside of my home, and had the luxury of enjoying homemade authentic Vietnamese meals cooked by my mom.
My whole family loves food and since we have a diverse family background, I love to cook recipes from Asian, American and various cultures for us all to enjoy. I hope your family will love them too!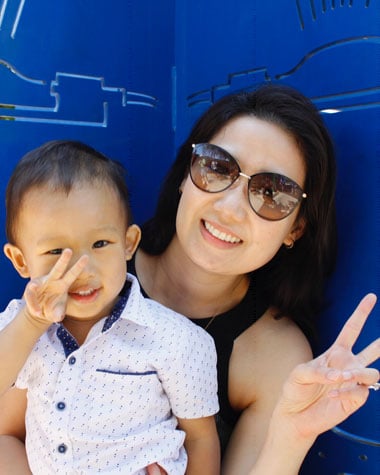 What You'll Find on A Peachy Plate
Quick and Easy Weeknight Recipes – As a busy parent, I know we all need quick and easy meals during the week that the whole family will enjoy. My hands down favorite is my rice cooker turmeric rice!
Air Fryer Recipes – I'm obsessed with my Air Fryer! Try out my recipes for crispy and delicious snacks, appetizers, and meals that air fryer newbies and pros can make in a snap! My top picks are easy air fryer taquitos, air fryer chicken wings and air fryer turkey meatballs.
Instant Pot Recipes – As a soup and bone broth enthusiast, I use my Instant Pot to whip up quick and flavorful broths and meals. Even crave-worthy mashed potatoes!
Vietnamese & Asian Recipes – A lot of my recipes are inspired by Asian cuisine, from savory fusion dishes, to authentic recipes with bold flavors. Try one tonight, like my popular ground turkey teriyaki stir fry, or suon ram man (Vietnamese caramelized pork spare ribs). 
Healthy Recipes – I believe that a balanced diet is key to maintaining a healthy lifestyle, instead of yo-yo dieting. Try out my healthy and delicious, kid-approved recipes like these oven baked chicken skewers that will have your whole family coming back for seconds.
Not sure where to start? Check out the Recipe Index, where you can browse all of my recipes by category. 
Keep in touch!
Follow me on Instagram and Pinterest. If you'd like to get recipes straight out of my kitchen, sign up for my newsletter!