Mì Hoành Thánh is Vietnamese for wonton egg noodle soup. It's a savory and comforting bowl of pork broth, with delicate shrimp and pork wontons served with delicious chewy egg noodles.
My son is a huge fan of dumplings and wontons, so naturally, I made it my mission to make the best homemade wontons and noodle soup. I've been testing out different ingredients to get the perfect balance of flavors and texture for the wontons and broth, and I'm happy to report that this mi hoanh thanh recipe is amazing! 
Jump to:

This dish is a true labor of love, it takes some time, but it's completely worth it for a delicious and comforting bowl of wonton soup made of fresh ingredients with no mystery additives.
I've broken down details on how to make each component below to make sure you make the best bowl of homemade wonton noodle soup!
Wonton/Mi Hoanh Thanh Broth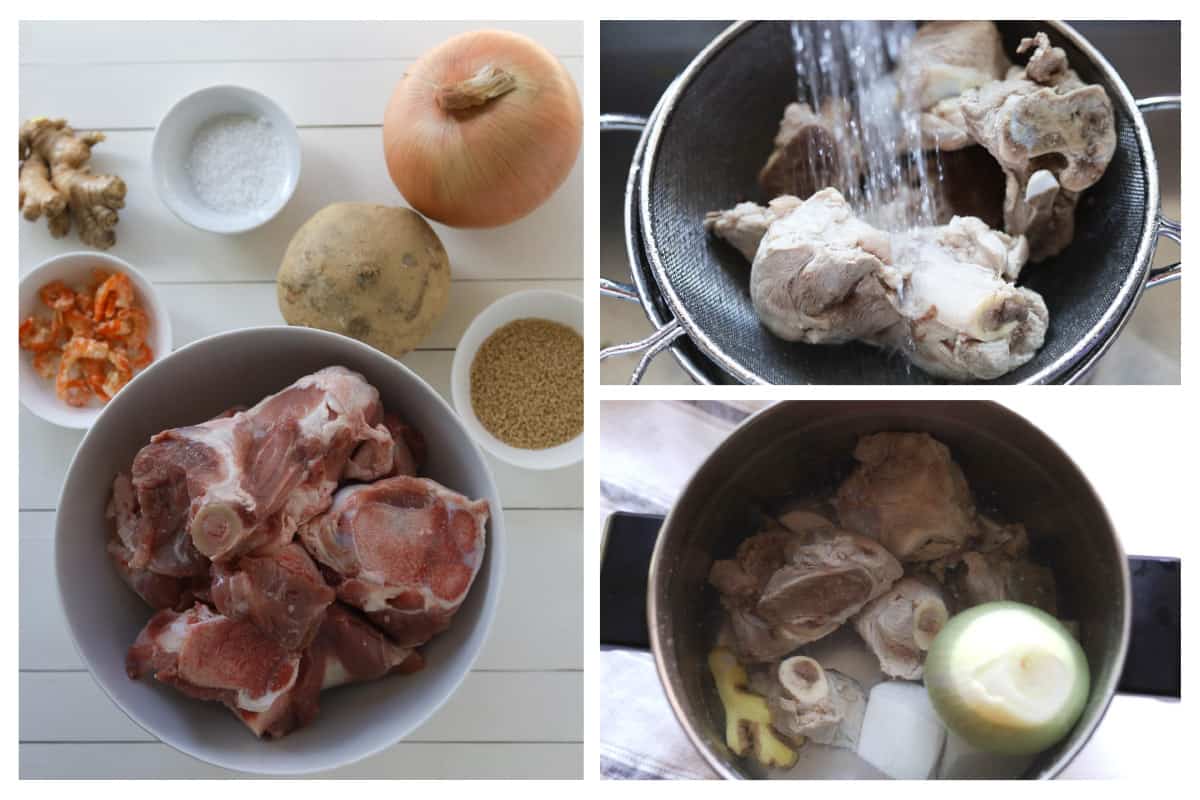 This pork broth is clear and flavorful. Patience is key, really give the bones time to simmer in the broth for maximum flavor. If you are able to, cook the wonton broth the day before - it will ensure a savory depth and flavor. Soups and sauces are always more delicious the next day.
1. Clean the pork bones by parboiling for 10 minutes, then rinse them well with water.
2. Add the bones back to the stockpot with all the ingredients and simmer for at least 1.5 hours, and up to 3 hours for maximum flavor.
3. Use a ladle to skim the "scum" and oil off the top of the broth as it simmers.
Wonton/Hoanh Thanh Filling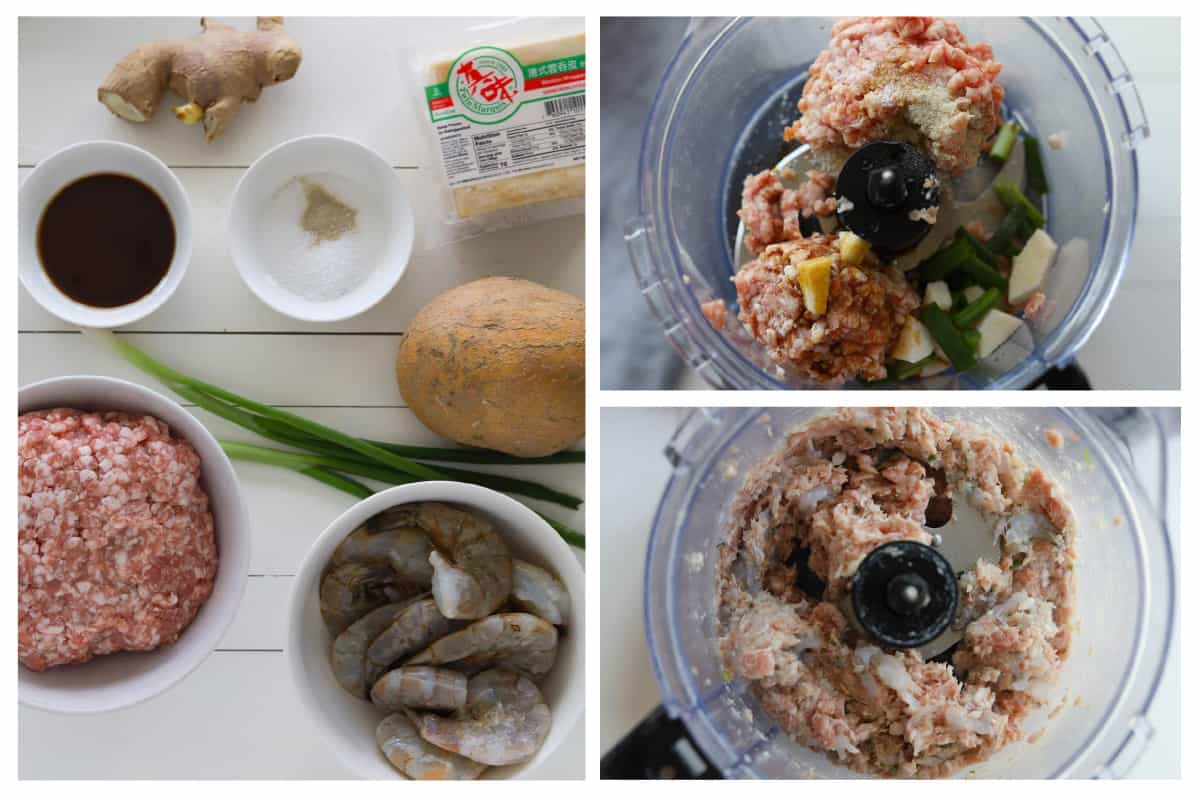 The texture of these shrimp and pork wontons are perfect. The pork is finely minced and flavored with aromatics and seasoning, with tasty bites of sweet shrimp.
Use a food processor to finely mince the ground pork, ginger, green onion and jicama until well combined. Be careful to not over-process the meat - you don't want it pasty.
Add the shrimp and "pulse" using the chop setting, roughly chopping the shrimp into the pork, with bite size pieces of shrimp remaining in the mixture.
How To Fold Wontons
There's really no right or wrong way to fold a wonton. In my opinion, if there is no filling spillage and the wrapper holds together, then you're good!
If you've never folded a wonton before, I've included two of my wonton folding techniques below - either way works!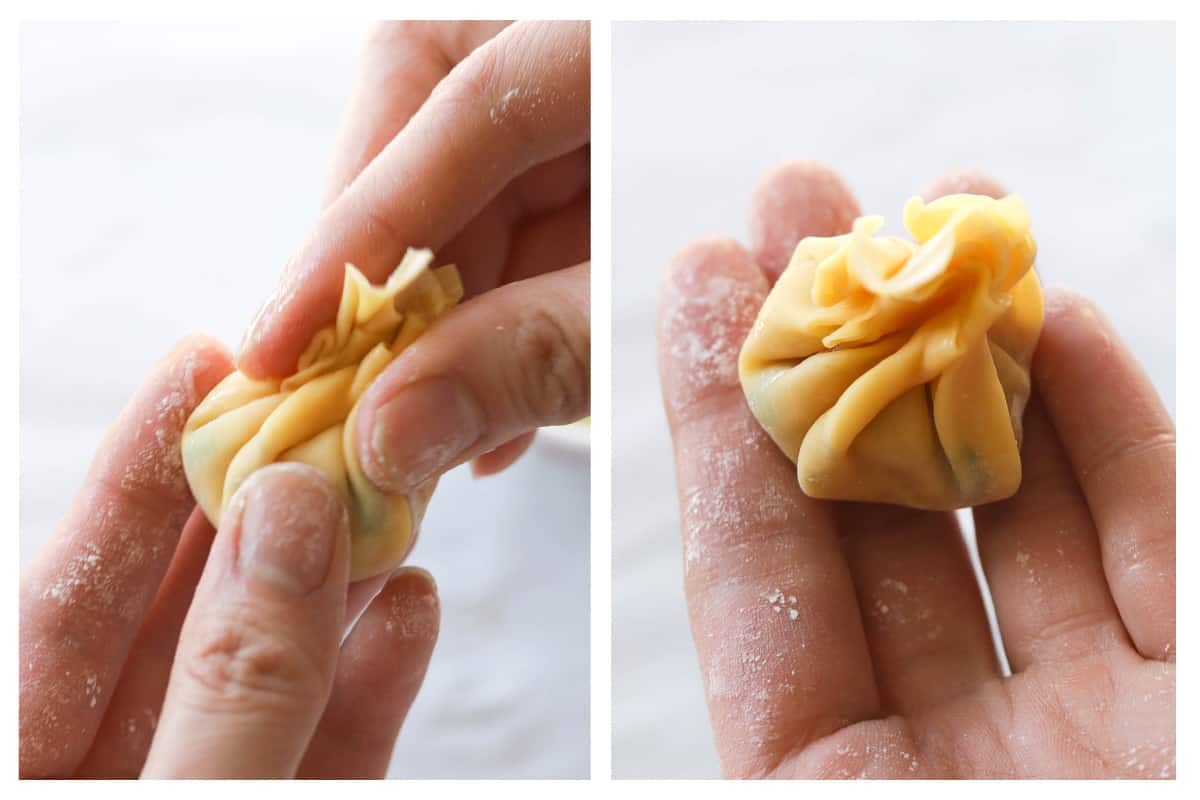 The scrunch method - An easy and quick, no brainer way of folding. To keep the wontons from falling apart, use water or egg whites to dampen the sides of the wonton. Then hold the wrapper with your fingers and "scrunch it" together with the other hand. Pinch it off to close the wrapper.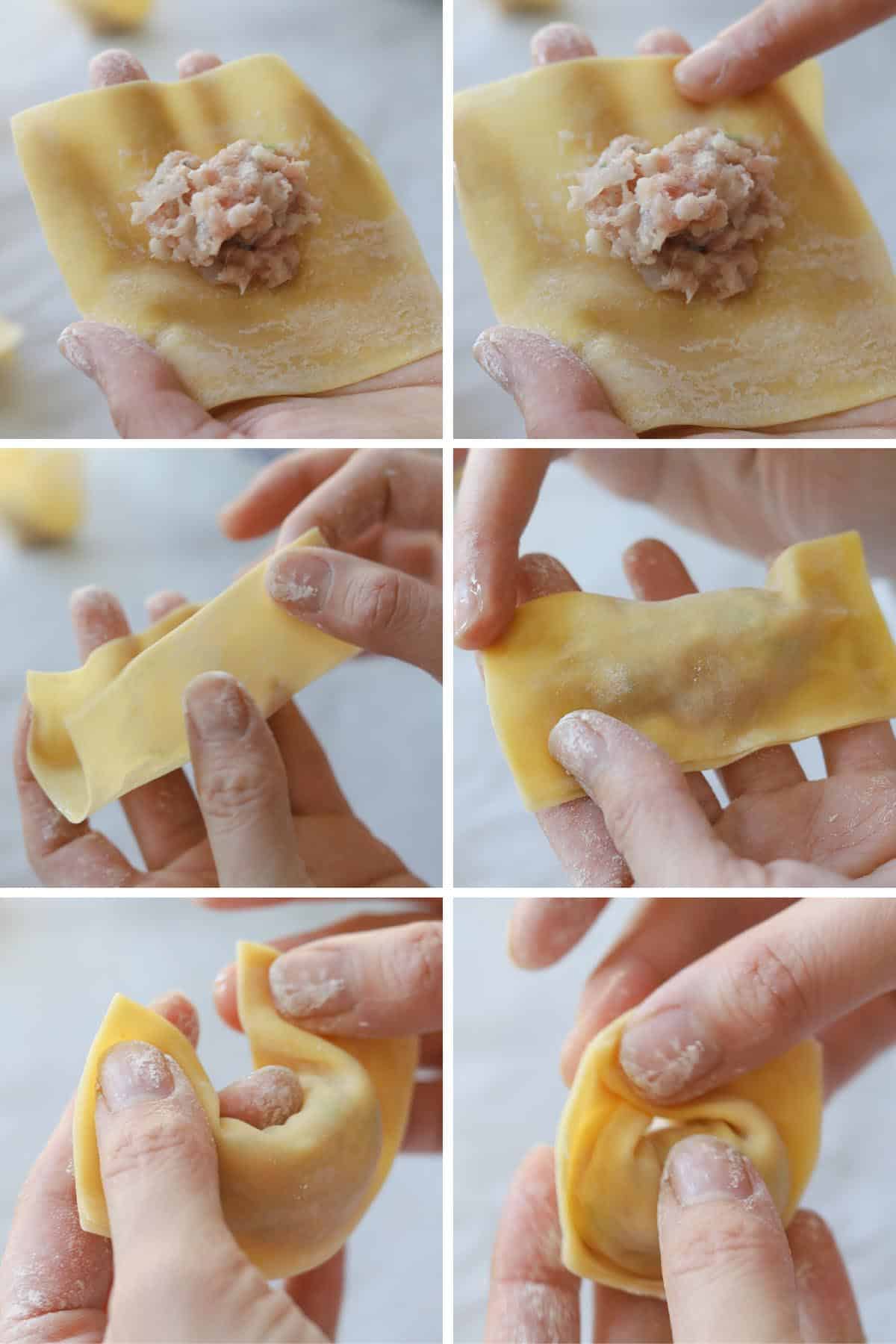 2. The gold nugget - This method takes a bit more patience and practice. Add the filling, then wet the sides. Fold the wrapper in half and seal it closed. Make sure the folded opening is turned towards the bottom. Wet the top left corner of the wrapper, place your middle finger in the middle of the wonton (where the filling is) to guide your fold. Gently bend the wonton in half and place the right corner edge on top of the left corner edge. Press it together to hold the shape.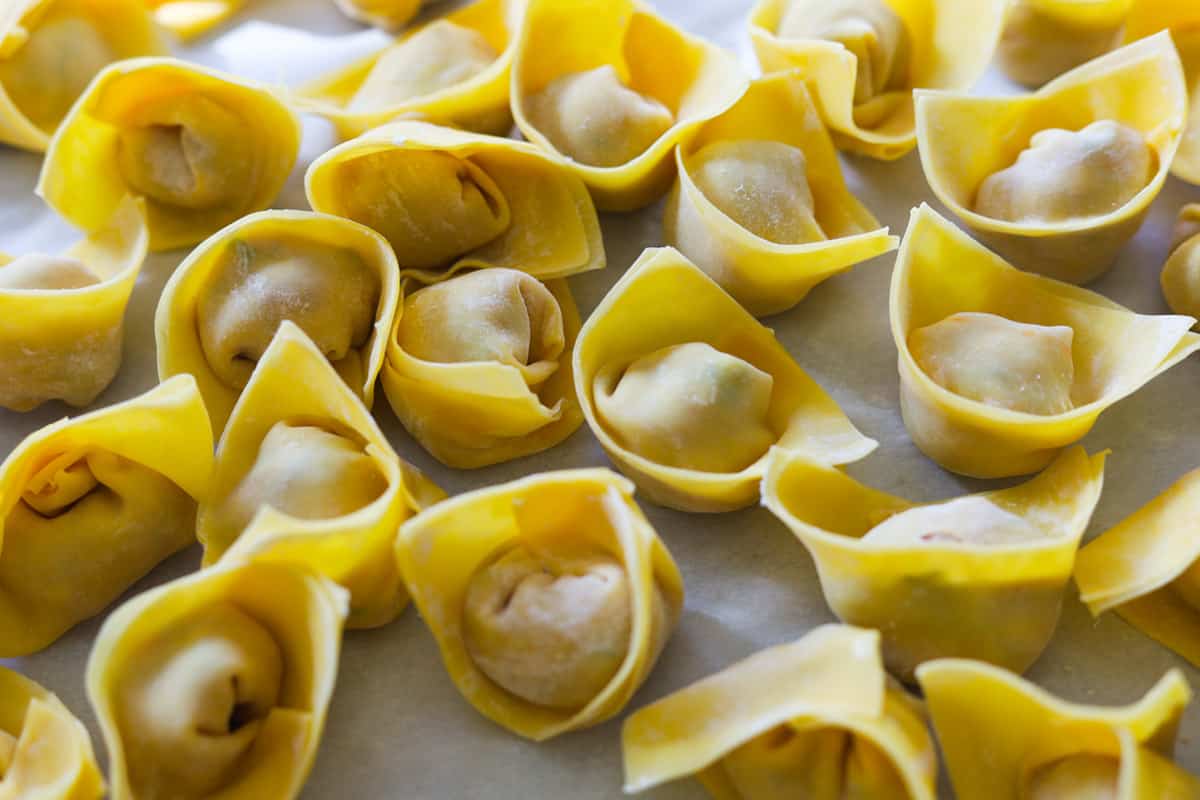 Toppings, garnishes and other ingredients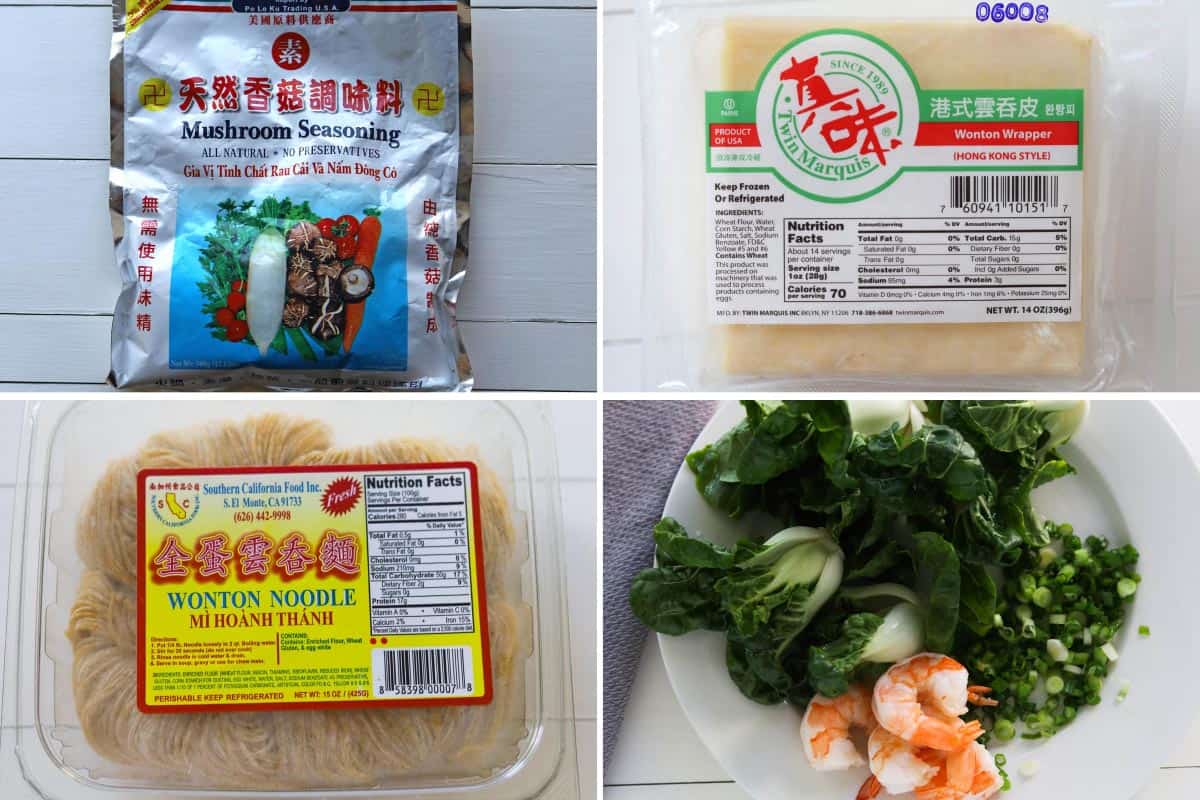 Seasoning - I use mushroom seasoning to add a savory depth and umami flavor to the broth. You can find this at most Asian markets.
Wonton wrapper - Look for these in the freezer aisle in most asian stores. Make sure to get wonton wrappers not dumpling.
Wonton noodles - You can get fresh, prepackaged wonton noodles in the refrigerator aisle at your local Asian market.
Garnish and extras - To make these wonton noodles extra tasty, top it off with some delicious ingredients.
Freshly chopped herbs like cilantro, green onions, garlic chives
Baby bok choy
Fried shallots
Char siu BBQ pork
Shrimp
Spicy chili oil
If you love Asian soups, try out my amazing beef pho recipe!
More Vietnamese Recipes
I hope you try out my wonton noodle soup recipe. Let me know what you think, and please give me a rating and comment below.
Let's be friends! Add me on Pinterest and Instagram.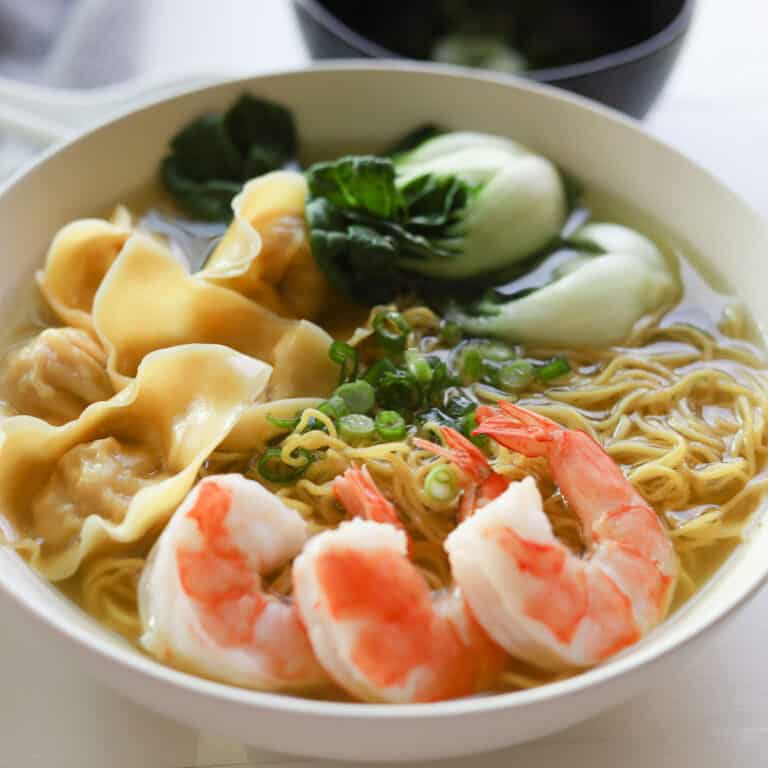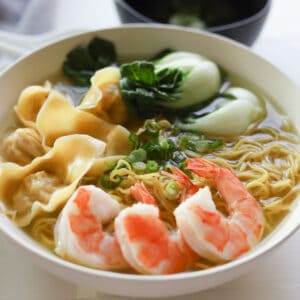 Wonton Noodle Soup (Mi Hoanh Thanh)
Mi Hoanh Thanh is Vietnamese for wonton egg noodle soup. It's a savory and comforting bowl of pork-based broth, with delicate shrimp and pork wontons served with chewy egg noodles.
Equipment
Food processor

10 quart stock pot
Ingredients
Wonton broth
6

liters

water

3

pounds

pork bones

2

ounces

knob of ginger, peeled

1

whole onion, peeled

1

tablespoons

dried shrimp

get these at an Asian market

5

ounces

jicama root, peeled and cut in half

2

tablespoons

mushroom powder

1

teaspoon

kosher salt
Wontons
8

ounces

80/20 ground pork meat

½ pound

8

ounces

raw jumbo shrimp

½ pound, peeled and deveined

1

green onion, thinly sliced

¼

ounce

ginger, minced

about ½ tablespoon

1

ounce

jicama root, roughly chopped

about ¼ cup

½

tablespoon

tamari or soy sauce

½

teaspoon

kosher salt

½

teaspoon

sesame oil

¼

teaspoon

white ground pepper
Garnishes and other ingredients
1

package fresh wonton noodles

about 15 ounces

1

package wonton wrappers

about 50 wrappers

1

green onion, thinly sliced

garnish

1

bunch cilantro leaves

garnish

baby bok choy greens

topping

cooked jumbo shrimp

optional topping
Instructions
Wonton Broth
Clean the pork bones. Add water to a stock pot with 1 teaspoon of salt, take it to a boil with high heat. Add pork bones and boil for 10 minutes. Drain and rinse the pork bones with cold water, rubbing off all residue from the bones.

Meanwhile, soak the dried shrimp in water for about 20 minutes. Then drain.

In a clean stock pot, add water, pork bones, ginger, jicama, dried shrimp, salt and mushroom powder. Take it to a boil on high heat.

Reduce the heat to medium low and simmer for 1 ½ hours up to 3 hours (for maximum flavor). Skim off any fat and residue from the top of the broth with a ladle.
Wontons
Add pork, sliced green onion, minced ginger, cut jicama, salt, sesame oil, tamari/soy sauce and pepper to a food processor. Process the ingredients until everything is finely mixed and combined. Being careful to avoid the meat getting pasty.

Add the shrimp and "pulse" on the chop setting until shrimp is cut into bite size pieces and mixed well with the pork.

Add about 2 teaspoons of filling to the middle of the wonton wrapper. Use water or egg whites to wet all four sides of the wrapper. Fold all sides up to close the wonton and pinch it together. Recipe will make about 45-50 wontons.

Boil water in a medium stock pot. Cook the wontons in batches, about 10-12 wontons at a time to prevent crowding and sticking to the bottom of the pot.

Boil wontons for about 6 minutes. Cooked wontons will float to the top of the water. Use a spider strainer to scoop the wontons out.
Assemble the wonton noodle soup
Cook the egg noodles (in small bundles as needed) in a pot of boiling water per package instructions (usually no longer than 30 seconds). Drain the noodles in a colander and rinse with cold water.

Drizzle about 1 teaspoon of sesame oil to the noodles. Mix well to prevent noodles from sticking.

Using the same pot of water, blanch the bok choy for 1-2 minutes.

In a bowl, add the wonton noodles, wontons, broth, garnishes and optional toppings.
Notes
*nutritional facts provided is only an estimate. Accuracy for nutritional information on recipes on this site is not guaranteed. 
If you are able to, cook the wonton broth the day before - it will ensure a savory depth and flavor. 
Be careful to not over-process the meat - you don't want it pasty.  To help keep the mixture from getting overly processed, cut and mince the green onions, jicama and ginger before adding the ingredients to the food processor.
If you like your bowl of noodles extra hot, you may heat the noodles in the microwave for 30 seconds prior to adding the broth and toppings. 
Nutrition
Serving:
5
people
Calories:
495
kcal
Carbohydrates:
59
g
Protein:
37
g
Fat:
11
g
Saturated Fat:
4
g
Cholesterol:
186
mg
Sodium:
1603
mg
Potassium:
313
mg
Fiber:
4
g
Sugar:
2
g
Vitamin A:
86
IU
Vitamin C:
12
mg
Calcium:
132
mg
Iron:
2
mg